Vous souhaitez mettre en place une gestion efficace et adaptée de la relance de vos clients en retard de paiement et vous ne savez pas choisir entre relance écrite ou relance téléphonique ?
Faisons ensemble un point sur les avantages et inconvénients que présentent ces deux types de relance afin de déterminer lequel est le plus adapté pour optimiser la relance de vos créances.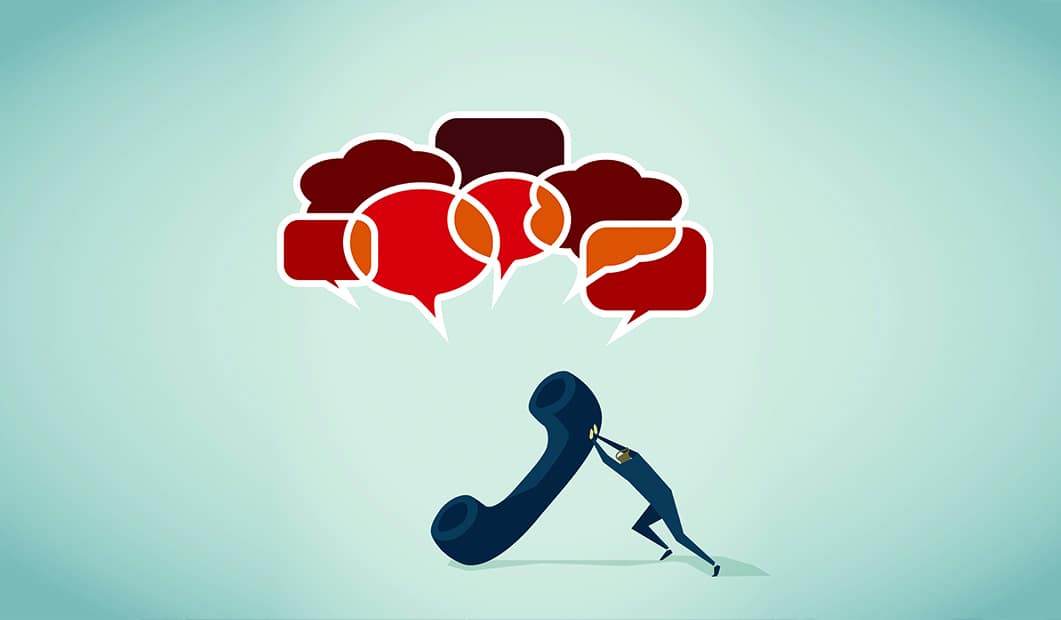 The first key element is to know your company and your employees. You must know your strengths so that you can use them during negotiations and enhance your business. You have delivered the requested service in due time, therefore you are entitled to claim the payment of your invoice. Your
customers need your products / services as much as you need them.
Make sure your employees who are proceeding to the telephone dunnings are results-oriented and do what is necessary to achieve their goal and collecting your money.
Organize for better results

Pour relancer efficacement vos créances, vous devez trouver le juste milieu entre le montant des factures et leur ancienneté. Faut-il relancer les encours les plus importants ou les plus anciens ? Vous devez prioriser vos relances et vous concentrez sur les montants les plus importants avant de traiter les anciennes créances.
Before you call your client, make sure you understand all the history of their file: should you chase for  the entire account or only certain invoices, did you treat all the requests of the client, do you have all the contractual documents? All these questions will help you anticipate the customer's reactions and prepare your answers.
Get to know your customer
For a successful telephone dunning, it is important to know and especially to understand the internal organization and processes implemented in your customer's firm. You must be able to identify and target the right person to ensure that your bills are processed. It depends on the typology of your client and specificities related to his organization.
Four types of customers can be distinguished:
Key accounts: the majority of companies will ask you for a purchase order so as to be able to identify the order related to your invoice. Therefore, the purchasing department is involved and it may be necessary sometimes to identify the person who validated the purchase to unblock the situation.
Public institutions: invoices are generally settled by the public treasury through mandates issued by the accounting department. If the billing process has not been followed or if any contractual document is missing, the mandate may be rejected.
Multisite enterprises: it is necessary to determine whether the accounts payable Head office settles all company invoices or if each entity settles its own invoices.
SMEs: the invoices are validated by the decision-maker who carries out the payment. Try to get direct contact information for this person to be able to chase directly. If necessary, she can explain the process to follow or send you to vendor accounting.
It is advisable to carry out commercial pre-chasing at the earliest stage in order to be able to anticipate the delays and make sure your invoice will be paid.
Get to know the different type of payers
In order to adapt your attitude to your client, it is necessary to determine the typology of the client.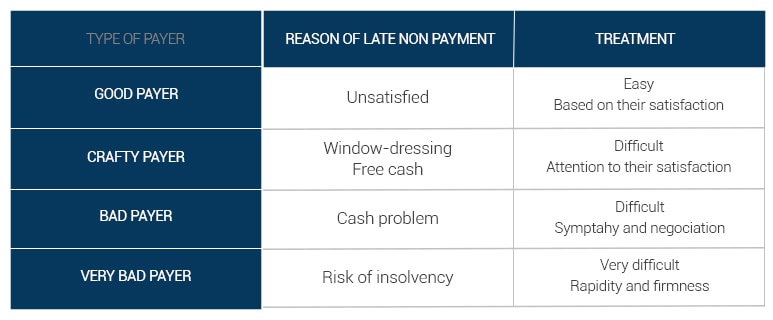 Fulfill your commitments
It is important to honour the commitments made during a phone call. If you have to get back to your customer for additional information or send them invoices or contractual documents, do it as soon as possible. Be sure to chase your client on the date agreed even if you do not progress on the record. You value your client and make proof of rigor in the follow-up of his file.
Avoid as much as possible to get chased by your client!
An effective telephone dunning has a significant impact on your cash flow and the amount of your doubtful receivables. Do not hesitate to use information obtained during your phone call to improve the process. If you observe a malfunction on the transmission of invoices or if the customer tells you about a dissatisfaction, give feedback to your managers. This will save you from finding yourself again in this situation and have to chase your customers !
Recouvéo
Expert en credit management et accompagnement financier